The bathroom is where most folks start and finish their day, so entering a space that's beautifully designed first thing in the morning and last thing at night can really set the tone for the next steps in your routine. In fact, the average person will spend about 1.5 years of their total lifetime in a bathroom. Candles, artwork, plants, matching decor and linens are all ways people choose to decorate their washrooms, but it has to be just as functional as it is beautiful to really inspire joy. Here are 5 joy-inspiring designs we absolutely love: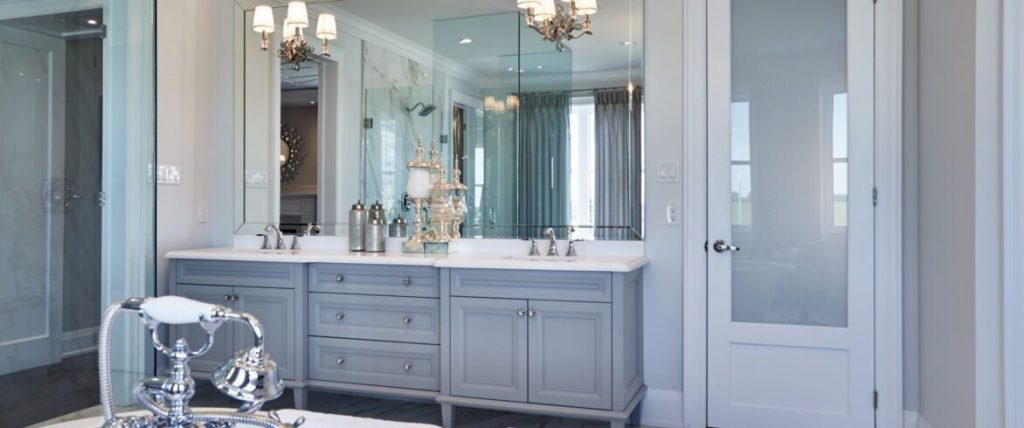 This transitional bathroom makes the list because of its beautiful, subdued cabinets in light grey. While the cabinets and countertops provide an attractive baseline that is easy to love, the matching, mirror-set sconces give each sink space a uniquely luxurious feel. This interesting lighting detail really makes you feel like you're in your own space when standing in front of the sink. Combine this with the freestanding vanity that doesn't go all the way to the floor, the bathroom feels airy and lavish at the same time.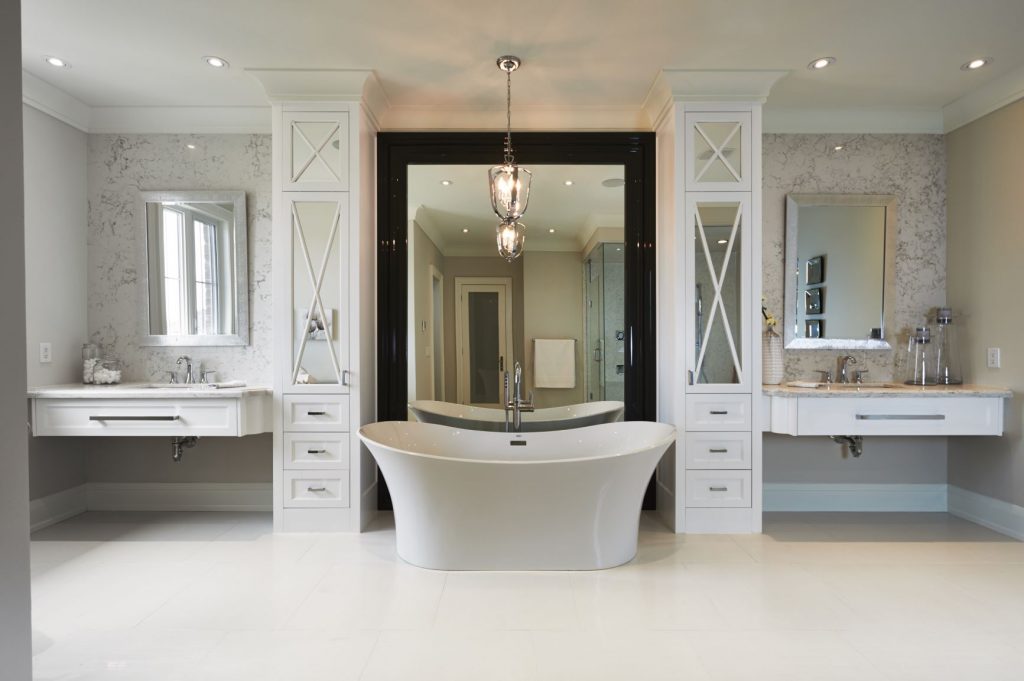 Who doesn't love a gorgeous standalone tub? A hot bath in one of these beautiful tubs feels like absolute pampering and comfort. This gorgeous bathroom shows how a bathtub can be about more than just function — in this case it is the focal point of the room. The choice to separate his and hers sinks helps frame the tub, which is then accented by intricate mirrored cabinets, all working together as an invitation to enter and relax.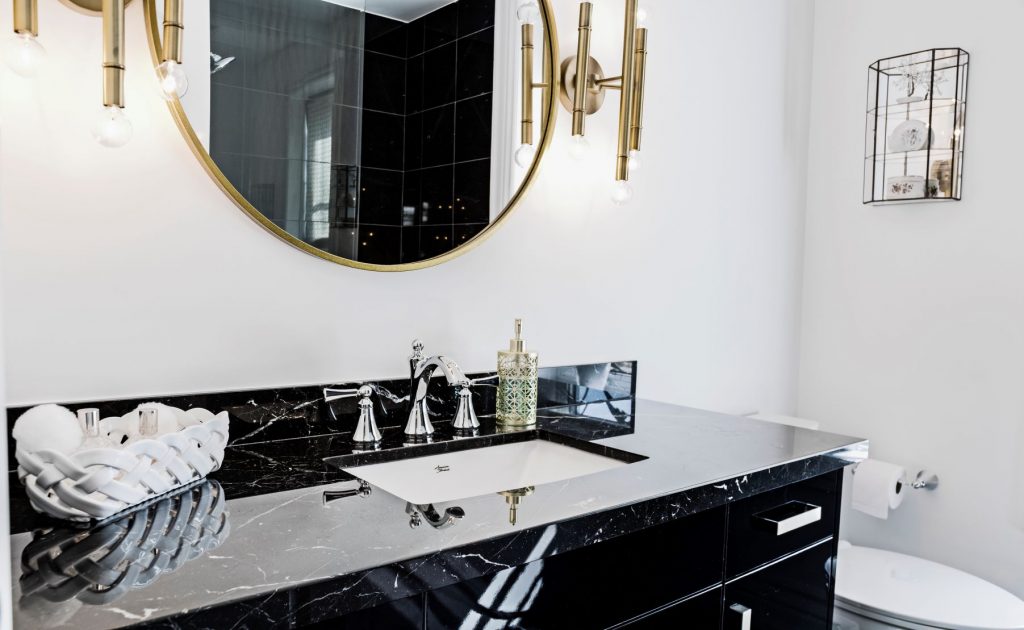 Regardless of the size of the space you are working with, there are plenty of ways to incorporate interesting design choices that make you feel good about your home. This compact, three-piece bathroom doesn't shy away from dark colours despite its modest size. The dynamic, rich countertop is complimented by ultra-modern, black cabinets and the gold accents that give the space a sense opulence. But, the winning element to this design is the high-gloss finish on the counters, cabinets and shower walls that help make the space look bigger than it actually is.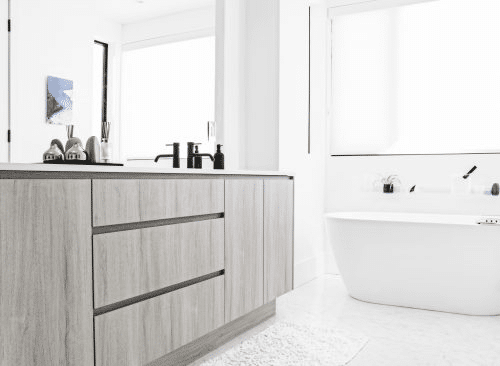 It's easy to get lost in the flourish and flair of different design trends but, there is something irreplaceably inviting about a crisp, minimalist bathroom design. This bathroom uses light, natural-looking channel cabinetry to give it a fresh and clean look. The absence of hardware on the drawers helps open up the room and highlights the modern, geometrical shapes present in the overall design. While the space is definitely simple, it is still incredibly interesting and—most importantly—somewhere you could easily unwind. 
One of our favourite bathrooms includes a very unique standing shower. While most people assume you need a lot of space to have a compelling walk-in shower, this room proves that is not the case. Though the bathroom is quite large, the shower is pretty much standard size. However, the wall-to-wall marble, floating bench and built-in nook give the entire space a functional beauty that inspires joy. Top it all off with a very distinct geometric tile pattern that creates an added layer of depth to otherwise simple design, and you have a show-stopping corner accent.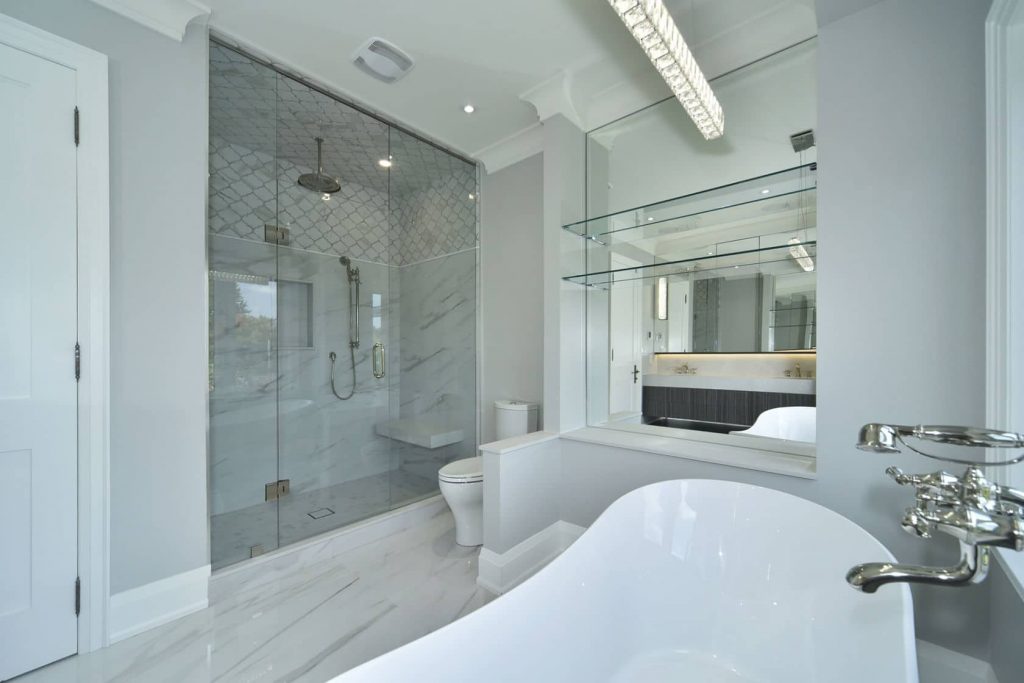 We've had the honour of working on some gorgeous designs over the years and we'd love to help inspire joy in this crucial space for your home. Talk to our designers get started on  your dream shower, bathtub or dream vanity.